ANA signs an order for 20 Boeing 737-8s and 2 777-8Fs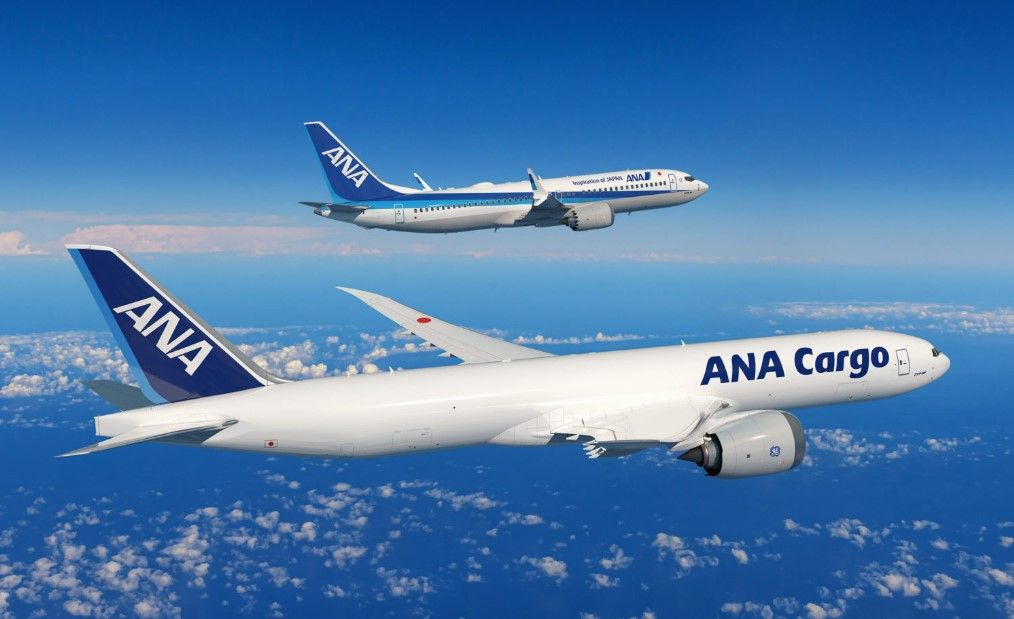 The Japanese company All Nippon Airways (ANA) has confirmed its order for 20 Boeing 737 MAX-8. The agreement was reached at a signing ceremony at the Farnborough Airshow on Monday and will make ANA Japan's first Boeing 737 MAX customer.
The agreement also includes options for 10 more 737 MAX aircraft, and in addition, ANA has converted two previous orders for the Boeing 777-9 passenger jet into the Boeing 777-8F freighter. As a result, ANA will become the first carrier in Asia to fly the Boeing 777-8F.
Speaking at today's signing, ANA HOLDINGS Chairman and CEO Koji Shibata acknowledged ANA's long relationship with Boeing, recalling 2012 when the airline was the customer launch of the Boeing 787 Dreamliner. The carrier now has a total of 61 aircraft on order from Boeing, including the Boeing 737 MAX, Boeing 787 and Boeing 777X.
Blackqualis via Wikimedia Commons"' data-modal-id="single-image-modal" data-modal-container-id="single-image-modal-container" data-img-caption='""'>
All Nippon Airways was the launch customer for the Boeing 787 in 2012. Here, one of the company's Boeing 787-9s sporting Star Wars livery. Photo:
Blackqualis via Wikimedia Commons
Good news from all points of view
Equipped with the latest CFM International LEAP-1B engines, advanced winglets and other aerodynamic improvements, the Boeing 737 MAX will provide ANA with 20% better fuel efficiency and 50% noise reduction.
Shibata went on to say,
"We are thrilled to partner with Boeing to introduce new aircraft to our world-class fleet that reinforce our commitment to sustainable aviation. The 737 MAX's efficiency, reliability and range capability make it an ideal aircraft. to renew our fleet of narrow-body aircraft and provide our passengers with the highest level of onboard comfort.In addition, the 777-8 Freighters will add flexibility and efficiency to our air cargo network. and 777s have long been a mainstay of the ANA fleet, and we look forward to continuing our partnership with Boeing with these new aircraft."
Boeing also shared the airline's joy over the order. Chairman and CEO of Boeing Commercial Airplanes. Stan Deal, said,
"This is an important milestone for ANA and Boeing as the airline has selected the 737-8 and 777-8 Freighter to further strengthen its passenger and cargo operations. ANA has remained at the forefront of commercial aviation by constantly investing in the latest aircraft technologies. , providing their passengers with an unparalleled flight experience and more sustainable options for traveling and delivering goods around the world."
ANA has signed an order for 20 Boeing 737 MAX-8s, with the possibility of purchasing 10 more. Photo: Boeing
ANA and the Boeing 777-8F
In addition to the Boeing 737 MAX order, ANA also signed an agreement to convert two previous orders of Boeing 777-9 passenger aircraft into Boeing 777-8F freighter aircraft.
The pandemic has changed the role cargo operations play at many airlines. The order for two of the last Boeing 777-8F freighters reflects the importance that ANA places on cargo flights in the future. Both aircraft are expected to enter service around 2028, when they will join the carrier's existing freighter fleet of 10 aircraft, consisting of Boeing 777-200Fs and Boeing 767-300Fs.
Featuring the world's largest composite wing and more efficient engines, the new Boeing 777-8F is capable of carrying up to 10 tons more payload than the Boeing 777-200F, and with 10% better fuel efficiency .
ANA currently has a fleet of 10 cargo aircraft, including the Boeing 767-300F. Photo: Fabrice Gandolfo via Getty Images
The Farnborough Airshow has so far proved successful for Boeing, with the manufacturer securing a large order from Delta Air Lines for 100 Boeing 737 MAX-10s earlier on Monday.
What do you think of ANA's latest Boeing order? Share your thoughts by commenting below.
Simple Flying will be at the Farnborough Airshow this week. For all the latest news from the show, click here.