US posts highest shipping rates as port issues continue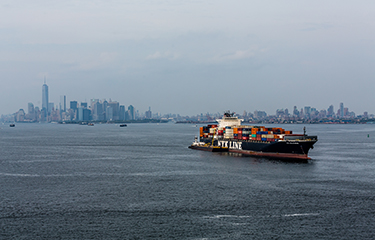 US exporters and importers are facing some of the highest shipping taxes in the world, according to new data, while delays at some US ports continue.
U.S. shippers, 'who have struggled to cope with two years of record container freight rates', are also facing the highest demurrage and detention (D&D) charges imposed by container lines in the world whole, online platform Container xChange said in a press release.
US ports hold the top five spots in Container xChange's global port fee rankings. New York, New York has the highest D&D charges, followed by the ports of Long Beach, California; Los Angeles, California; Oakland, California; and Savannah, Georgia.
"The five ports are more than 2-3 times more expensive than 7th-ranked Hong Kong, and at least 20 times more expensive than major Asian container hubs such as Dalian in China and Busan in Korea," Container xChange said.
"We have received hundreds of complaints from shippers," said U.S. Representative John Garamendi (Democrat of California), who sponsored the initial version of the Ocean Shipping Reform Act, which was signed into law by President Joe Biden in mid-June.
The legislation shifts the burden of proof regarding the reasonableness of the D&D charges from the billed party to the ocean carrier; prohibits ocean carriers from unreasonably denying shipping opportunities for US exports; requires common carriers to provide quarterly reports of total import and export tonnage and units loaded per vessel that call in the United States, and other metrics.
Meanwhile, the number of import containers sitting at the Port of Long Beach for nine days is up 9% from Oct. 28, 2021, the first day the port began counting boxes as part of a plan to move them from the terminals, Freight waves reported.
The port reported 28,723 containers left nine or more days as of July 11.
While the Port of Los Angeles shows a decline in long-term containers from October 24, the decline has narrowed to just 9%. As of July 11, 33,999 import containers were staying in the port for more than nine days, an increase of 20% over the past 12 days.
Even though the West Coast port dockers' contract expired on July 1, negotiations are continuing and cargo will continue to move as normal, CBS News reported.
The contract covered workers at ports from California to Washington State, which handle nearly 40% of US imports.
"Although there is no contract extension, cargo will continue to move and normal operations will continue at ports until an agreement can be reached," said a joint statement from the Pacific Maritime Association and the International Longshore and Warehouse Union, by CBS News. .
Photo courtesy of Darryl Brooks/Shutterstock