Burrell Group to develop 86 acres at BKV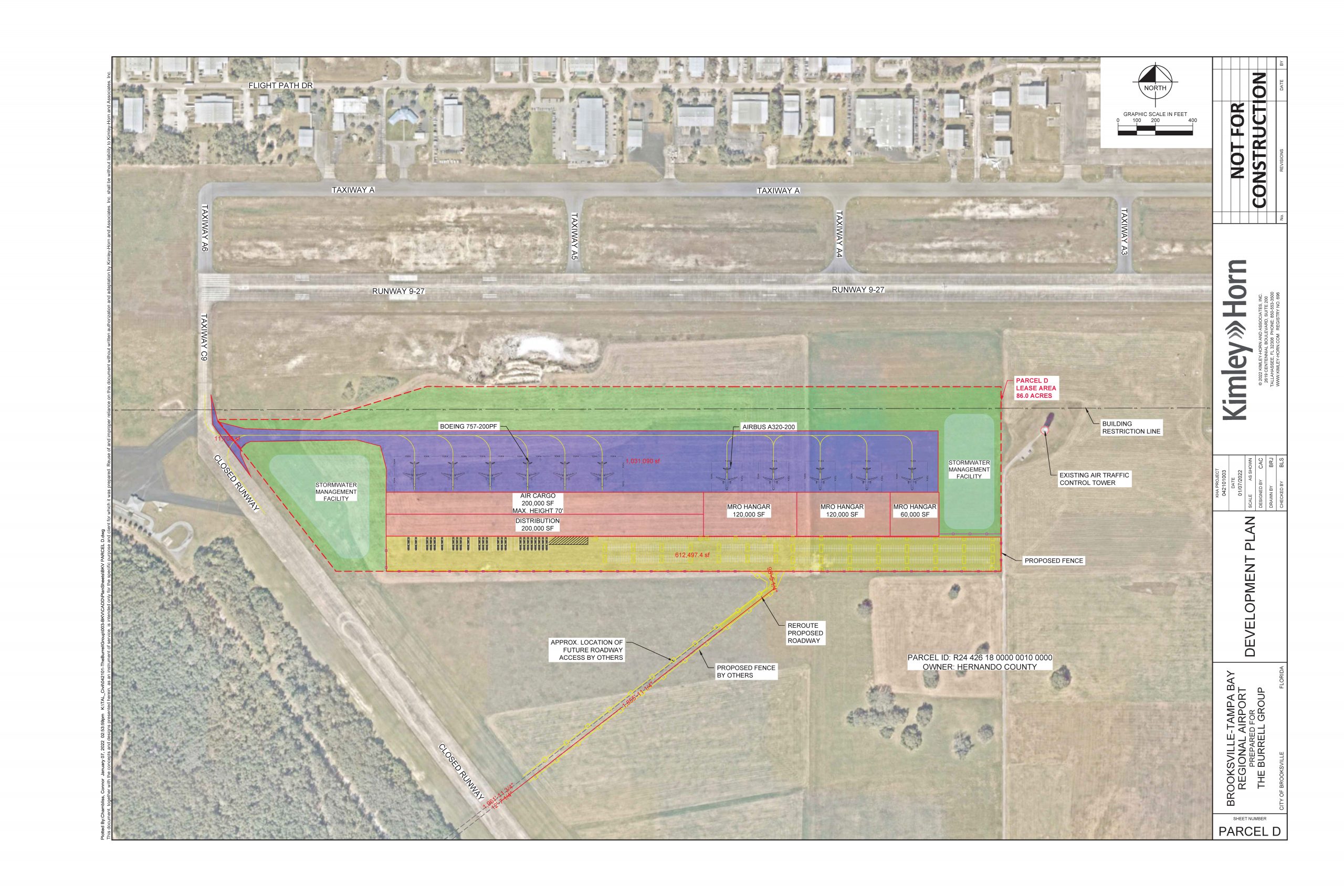 At the April 12, 2022 regular meeting, the Board of County Commissioners (BOCC) unanimously approved a lease agreement with the Burrell Group to expand operations at Brooksville – Tampa Bay Regional Airport (BKV) .
Director of Economic Development Valerie Pianta introduced the members of the Burrell Group, which does business as Burrell Aviation, LLC. Over the past year, they have worked with Pianta and the BKV on a lease agreement to develop cargo, maintenance and repair, and aviation logistics at the airport. Airport revenues are expected to increase annually by at least $112,385.
Burrell applied to lease the 86-acre parcel inside the airport, adjacent to runway 9-27. It is estimated that the project will develop over 700,000 square feet of space, an estimated capital investment of over $75 million, and create jobs for approximately 900 people.
Due to the scale of the project, Burrell requested a maximum of four years to complete the project. Pianta said land rental rates during this period will be reduced, providing Burrell Aviation, LLC with the opportunity to market, find tenants and solidify plans for facilities and infrastructure. After this period, the land rental rates will be adjusted to the fair market value then in effect, including appraisal and revaluation, every five years.
David Goldschmidt, John Rodstrom and Ben Fierstein appeared before the board to discuss choosing BKV for their business operations. Goldschmidt cited Hernando County's growth as a deciding factor in their decision.
Goldschmidt told commissioners his family moved to Brooksville in the 1950s and ran The Oaks Motel and his grandmother once served Elvis Presley.
Rodstrom said COVID also drove the decision. "When you think about it, [COVID] has really unlocked e-commerce in this country like we've never seen in our lifetime, and we don't think the genie is going back in the bottle. Of nearby international airports, Tampa (TPA) and Orlando (MCO), Rodstrom said, "They're full. They're expensive, they're congested, and we think tenants are ready to come here.
According to a press release, Burrell Aviation was created to meet the growing demand for air cargo, cargo and logistics solutions in the continental United States, Mexico and Canada through a public-private partnership model. The main lines of business of the company are air freight, warehousing (cold and dry), private hangars, aircraft maintenance and repair (MRO) and distribution centres/road transit. In addition to these, Burrell Aviation continues to explore other complementary business lines.
Chairman Steve Champion led the board discussion, and the final deal, and told Rodstrom, "The reason you don't have a lot of questions is because we like it!
Hernando County Administrator Jeff Rogers said, "To get to today, the county has invested many years and millions of dollars in DOT, FAA, and county funds not only for tracks, but also for adjacent roads and extensive infrastructure. Rogers added, "We strongly believe in Burrell Aviation. We see this project as a partnership for the future.