Rediscovering the Merchants of Rome – Atlas Obscura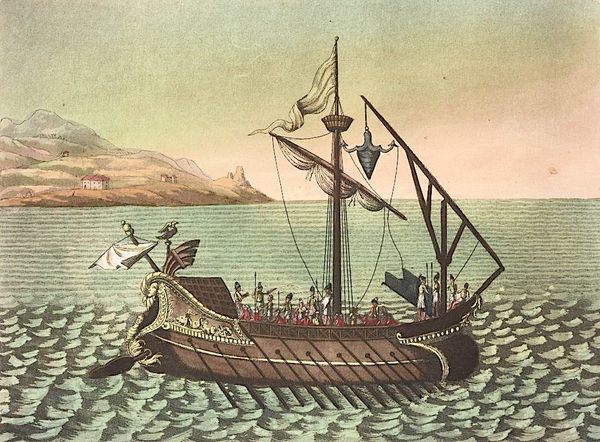 In the Atlas Obscura Q&A series She was there, we talk to scholars who are rewriting women long forgotten in history.
Around the year 200, two Roman women Ailia Isidora and Ailia Olympias walk through the impressive gates of the Temple of Medamound, a temple complex outside Luxor, Egypt. Their arms were laden with an offering to the goddess Leto. They had just returned from a successful trip across the Red Sea and had come to thank their patroness. In the recorded dedication, we hear their voices coming back to us millennia later. They described themselves as "distinguished matrons, shipowners and merchants of the Red Sea".
Ailia Isidora and Ailia Olympias weren't the only merchants of antiquity, says University of Toronto archeology professor Carrie Atkins, who has uncovered more than 20 references to merchants from the early centuries of the Roman Republic. While some of these women were passive shipwrights, others were heavily involved in financing, managing and perhaps even sailing these merchant ships. Even though Roman law stated that a woman needed the approval of a male guardian to own property or do anything beyond the home, many of these merchants operated without a male supervising each. of their actions. Atlas Obscura spoke with Atkins about the little-known role of merchant women in the ancient world, a woman named Sarapias, and why her story and that of others like her has so often been overlooked.
Were you surprised the first time you found evidence of merchants?
I don't really remember my reaction except thinking "Wow!" I knew from other sources that women owned property. So when I started seeing women owning boats, it wasn't that surprising. But when I started digging through the actual tax receipts and [temple] inscriptions [like Ailia Isidora and Ailia Olympias's] to see how involved they were is what surprised me.
What was the involvement of women in merchant trade? Would they have sailed on their own ships?
Merchantwomen's agency runs the gamut from passive owners of ships to individuals who actively participated in the trade. We have individuals like Cleopatra I, who owned at least one ship, and Cleopatra II, who owned at least six ships. Other people would be the captains and handle the cargo and take on these various intermediary roles. Other individuals, like the two women [Ailia Isidora and Ailia Olympias] who made this dedication, really considered themselves merchants, like those who actively engaged here in trade.
Were merchant women exceptional in Antiquity?
I must say that I work here from probably 20-25 references. So when you think of all the evidence we have [that is, the hundreds of references to male merchants], this seems quite exceptional. However, having said that, women traders correspond to the models of references to men. So there is nothing in these tax receipts, in these registrations, that really draws attention to the fact that these are women.
For me, the takeaway here is the fact that female merchants could exist and weren't singled out as something special or noteworthy, which perhaps means that was how it was. they were seen in antiquity. It wasn't necessarily mainstream, but it wasn't something taboo or very special as long as people go out of their way to comment on it.
Is there a trader who particularly caught your attention?
The one that I find really interesting is this reference to a woman named Sarapias living in the 2nd or 3rd century. We have a mention of her on a tax receipt, and it's her first person voice on the receipt as the one arranging this shipment of wheat on board. His brother was the captain or helmsman of the ship. For many of them [references to female merchants], we don't necessarily have their voice on the tax receipt. Someone else writes it. But for that, it is she who says: "It was I who organized this shipment of wheat." Sometimes you will get a mention that so-and-so transcribed this or wrote this on behalf of the individual. Here, I don't think there is any mention of anyone doing that. So it's likely she would have been the one writing this.
And so when I read that, it completely captivated me, because it's a woman who speaks to us through the sources.
Why do you think women traders in this period or more broadly in history are not well understood?
I think that's our take on the story. At present, we are trying to look beyond male-dominated sources and seek out underrepresented individuals in antiquity. I think this is one of those examples where really questioning sources allows us to get a different perspective that researchers may not have had in the past.
This interview has been edited for length and clarity.