Shipping agents ring rising import container hoard due to currency crunch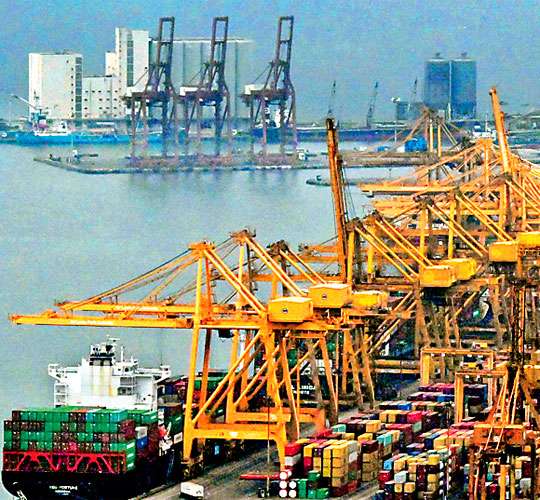 Port of Colombo
---
Ceylon Shipping Agents Association Reveals Over 640 TEUs Of Imports Currently At Colombo Port
Nearly 130 TEUs have been lying for more than 3 years; most of which are either detained, abandoned or subject to legal proceedings
Warns of currency crisis, delays in obtaining import control licenses, SLSI clearance, etc. further delaying the clearance of container accumulation
A delay in resolution will also impact exports and transhipment
CASA concerns mid-2021 sees record $20.6 billion in imports and $12.4 billion in exports
Ships calling at Colombo port in first 11 months of 2021 down 4.4%
Total container handling up 4.8% to 6.6 million TEUs; transshipment up 3% to 5.3 million TEUs
---
Shipping agents yesterday warned that the backlog of import containers at Colombo Port was worsening mainly due to the currency crisis, and urged authorities to resolve it quickly to avoid a more serious impact on the economy.
Shipping lines rely on import containers cleared from ports, offloaded and returned to container depots, either to be used as export containers or to be repositioned in areas of high demand.
The perfect balance between container supply and demand is essential for shipping companies to achieve operational efficiency and reduce costs. Rapid container turnover is essential to maintain a balance of equipment. The pandemic has significantly lengthened the container turnaround cycle.
However, the Ceylon Shipping Agents Association (CASA) said that with Sri Lanka facing a shortage of dollars, importers are unable to pay the fees needed to clear import containers from the port. "This means that static containers sit in terminals day after day incurring demurrage charges which ultimately will have to be borne by none other than the consumer," CASA said.
Pressuring shipping companies for demurrage waivers will have a negative effect making Sri Lanka unfavorable.
CASA said the containers lodged at the terminal also means that the supply of empty containers available for exports also drops significantly, leading to further increases in freight rates and even if the exporter is willing to pay that freight rate higher, it may still not be. able to secure a container due to limited supply availability.
Furthermore, even if shipping lines decide to reposition more empty containers in Colombo to meet export demands, this would increase the operating costs of shipping lines and ultimately lead to higher rates again. freight or an allowance given to another region where these problems are not prevalent.
CASA stated that containers require physical space and currently this space is occupied in terminals where space that could be used for transshipment of cargo is used by these containers, which will lead to an overall limitation of space for the management of transhipment by terminals, allowing shipping companies to seek alternative stable ports.
"This will negatively impact Sri Lanka's aspiration to become the region's maritime hub and have devastating long-term effects that would be irreversible," CASA warned. "Therefore, it is essential that the authorities take note of this issue and take urgent action to address this issue as it will have multiple long-term effects on the Sri Lankan shipping industry as well as the Sri Lankan economy. as a whole," he said. added.
The concern raised by CASA comes as Sri Lanka recorded a record $20.6 billion in imports and $12.4 billion in exports last year. Vessels calling at the port of Colombo in the first 11 months of 2021 decreased by 4.4% to 3,826.
However, total container handling increased by 4.8% to 6.6 million TEUs. Transshipment grew by 3% to 5.3 million TEUs. Handling of domestic boxes increased by 10.5% to 1 million TEUs.