How Air Arabia chief Adel Ali positions the group for post-pandemic growth | Interview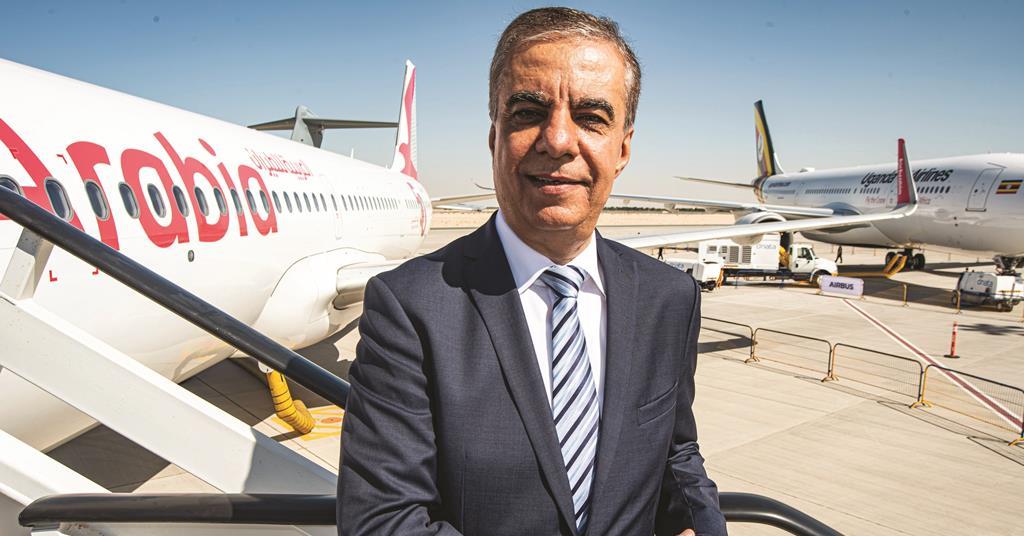 As the Covid-19 pandemic has tested Adel Ali's 'don't panic' mantra when it comes to managing crises, Air Arabia Group CEO is leading his business through the downturn with some confidence in the recovery.
Speaking to FlightGlobal in November 2021, before the Omicron variant of Covid-19 was identified, Ali said a calm head was particularly important during the initial wave of the novel coronavirus, as fleets were grounded and governments put up barriers to travel.
"When you think about it and see that all the planes are parked on the ground and nothing is flying and you have the responsibility to handle this, it's scary, but for me it wasn't the first global crisis," says -he.
"The previous crises have not been of the same magnitude, but there have been past pandemics and people have gone through it and the markets after that have developed. And I have no doubt that this market will grow too.
This is why "don't panic" is an important lesson from Covid-19 for airline executives, says Ali, as the crisis has also shown him the importance of having "the right people" around you.
"In any crisis, no CEO can handle all challenges," he says. "You need the right people to do it. "
Ali is certainly an airline leader to listen to.
Air Arabia Group's third quarter 2021 results marked the fourth quarter in a row that the Sharjah-based company has been profitable on both an operational and net basis, at a time when much of the global industry was doing so. still facing huge losses.
At the same time, Ali had kept an eye out for post-crisis growth opportunities for the state-owned group, with Air Arabia signing deals to launch new low-cost airlines in Pakistan and Armenia, to complement those it operates in the United Arab Emirates, Morocco. and Egypt.
GREATER AMBITIONS
"This has always been our tip: to make sure that wherever you want to go in the Arab world and the Indian subcontinent, you can jump on an Air Arabia plane," says Ali. "Of course, with the operations in Pakistan and Armenia, this is about to get much bigger."
The group was even involved in an airline launch when most of the world was reeling from the first wave of Covid-19 cases in July 2020: its Air Arabia Abu Dhabi joint venture with Etihad Airways.
"It couldn't have been worse, but we were confident enough to say 'it's good in the long run, let's go'," recalls Ali. "We're glad we did this, because otherwise it would have taken a lot longer.
"Etihad feels he needs the legacy business model to continue, representing Abu Dhabi and the capital, and he also feels he needs a tourism feeder, for Abu Dhabi, and bring in and stimulate businesses that weren't there. "
And looking back on the crisis so far, Ali notes that despite all the challenges, there have been some positive by-products.
"If you can stop, review, and start over, that's a good thing, but you usually don't have that opportunity," he says.
"Despite all the negatives of Covid, it gave airlines the opportunity to re-examine their operations, as there were times when no one was flying."
In the case of Air Arabia, "we have re-examined everything we do," says Ali.
The emphasis was on bringing "a lot of efficiency to the business", which meant "looking at all areas of cost and cleaning up the business."
But to achieve profitability during the recession, Ali says Air Arabia needs to do more than review and manage costs.
"It helped," he says, but the high returns "due to the scarcity of capacity" in Air Arabia's markets boosted revenues and therefore profitability during the pandemic, when its airlines were able to fly.
"You weren't networking, you were just flying to specific countries that would allow you to fly," he explains. "We have a business model that helps us move the business from one hub to another very quickly based on supply and demand.
"For example, in T3 [2021] and especially in July and August, Morocco was fantastic because Europe was open to Morocco.
At the same time, Air Arabia benefited from a source of revenue that was a lifeline for many carriers: the freight boom.
"Air freight has contributed a lot more than in the past, in terms of the rates you can get in the market," says Ali.
"So it's really a combination of these things [driving profitability], and I have to admit the fuel coverage policy has really helped us.
RESISTANCE OF THE HUB AND SPOKES
More fundamentally, Ali says it became clear during the pandemic that the underlying fundamentals of the carrier's strategy are well aligned with the likely expectations of post-Covid passengers.
"We think that our star system that we have in the different countries, Morocco, Egypt, [the UAE], three different airports, the one we set up in Pakistan, the one we set up in Armenia, it's a good diversity of businesses.
"This is what it is for the future," he insists. "People want to fly nonstop now, they probably don't want to sit on a plane for too long, to their home country or home city.
"Our business model has always been to fly to as many airports as possible, using a single-aisle aircraft and our future order suggests 'do what you did' because it works."
With the various Air Arabia units in different stages of recovery, the short-term plan is to return the airline's entire current fleet to service over the next few months. After that, the potential for growth will eventually come from incoming aircraft.
Air Arabia ordered 120 A320 Family aircraft at the Dubai Airshow in 2019, including 73 A320neo, 27 A321LR and 20 A321XLR. Ali says the group is sticking to the pre-Covid plan to start taking deliveries from 2024.
Some 40% of those jets are for "fleet replenishment," he notes, while the rest will be for growth.
"In Sharjah we probably need organic growth, Abu Dhabi still has a long way to go [in terms of growth potential], Morocco needs a little growth, Egypt is improving so we'll probably have to develop that, and then we have two new airlines starting up [in Armenia and Pakistan], then we'll see what it brings, "he says.
The A321LR and A321XLR will also give Air Arabia more opportunities to "expand into areas we couldn't go" before.
Ali believes Air Arabia's existing onboard product would not need to be adjusted for these longer routes, saying it already goes way beyond passenger expectations for a low-cost carrier.
"Our average sector is longer [than most low-cost carriers'], "he said." So rather than packing an airplane with seats, I take a fuel penalty during the flights. I comfort people.
"From the point of view of the seat and the product on board [we offer something] better than any old economy cabin of an airline.
Ali also cites Air Arabia's ancillary activities as "really good".
"These things work," he says. "With the size of the network we have, it helps us grow as a company. "
PLANNING FOR SHOCKS
With many growth opportunities to look forward to at Air Arabia, Ali has nonetheless been in the business long enough to know that "when Covid is over, industry surprises will not be."
"There will always be another," he said. "So you have to be prepared. To plan and be ready to act. It's a big thing for me.
But as the threat of Covid-19 abates, Ali maintains an unwavering belief in Air Arabia's strategic fundamentals. "For us, it has been working for 18 years, so why change? he asks.
"People haven't had a chance to go for two years. And they need to fly now. So it's only a matter of time before we see the markets come back.