MSC Boxship may have dragged anchor on San Pedro pipeline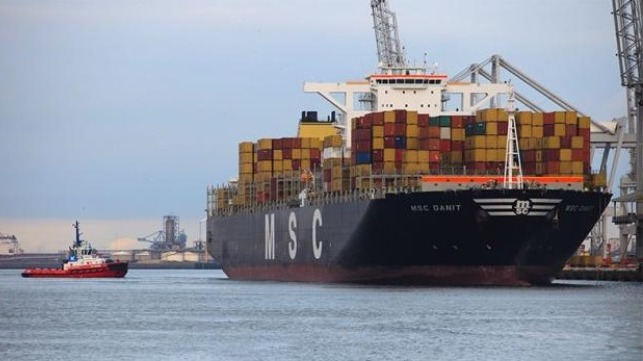 A U.S. Coast Guard investigative team believes the container ship MSC Danit may have been involved in an alleged collision with a pipeline some eight months before the San Pedro Bay pipeline spill, which spilled approximately 25,000 to 130,000 gallons of crude oil into the ocean off Orange County .
The Coast Guard has jurisdiction over the investigation due to the possibility that a vessel (or more) may have damaged the pipeline, triggering a chain of events leading to the leak. Investigators' theory is that the line was hooked and dragged by an anchor, moving a 4000 foot section of pipe a distance of about 100 feet and breaking the concrete outer shell of the line. "I am very confident – I have no doubts – that this is the initial event that diverted the pipeline," lead investigator Captain Jason Neubauer said at a press conference on October 8. .
According to Neubauer, evidence from an ROV inspection suggests the collision with the anchor likely occurred several months – if not up to a year – in the past. His team looked into an unusual storm that swept through the region on January 24-25, 2021, requiring extensive vessel management activities at the Marine Exchange VTS in San Pedro Bay. "We're going to comb through and get a very detailed picture of communications and vessel movements during this time," said Captain Neubauer.
In a statement on Saturday, the Coast Guard said investigators in the Los Angeles-Long Beach area had determined that MSC Danit dragged anchor near the pipeline on January 25, during the previously identified violent weather event. With a capacity of 14,000 TEUs and 165,000 dwt, the Danit (like many ships calling in LA / Long Beach) matches the Coast Guard's expectation that the anchor drag incident involved a large, deep draft merchant vessel.
Saturday, when MSC Danit called to the port of Long Beach, inspectors boarded him to look for evidence. The US Coast Guard has designated the operator of the Mediterranean Shipping Company and the shipowner Dordellas Finance Corporation as "interested parties" in the investigation into the marine accident. This means that the two firms have the possibility of engaging lawyers, cross-examine witnesses and call their own witnesses for the investigation.
The Coast Guard noted that several damage scenarios and "other vessels of interest" are under investigation.