Crew vaccinations and change statistics continue to follow positive trends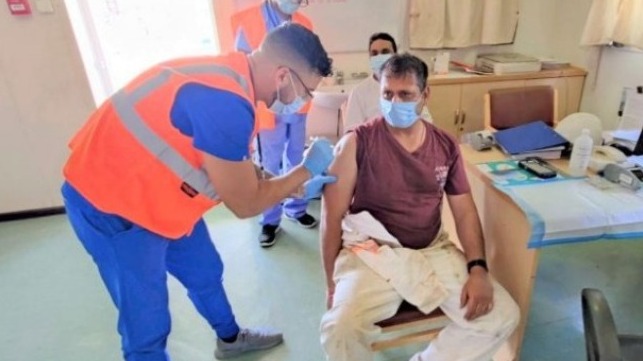 [ad_1]
The challenges facing seafarers who have made headlines over the past 18 months continue to level off and show slight signs of improvement according to the latest monthly update of the Crew Change Indicator of the Neptune statement. Data compiled from the largest ship managers show a positive trend for crew change issues while vaccination rates among seafarers appear to be accelerating according to the Global Maritime Forum which reports monthly indicator results.
The latest report shows that the number of seafarers on board ships beyond the expiration of their contract has declined from 8.9 to 7.9 percent over the past month. Likewise, the number of seafarers on board ships for more than 11 months decreased slightly from 1.2% to 1.0%. These statistics continue the trend that started to appear in the summer months, as the numbers stopped rising as more sailors were able to complete crew changes on schedule.
The October indicator also shows encouraging numbers on sailors vaccinated against COVID-19. The percentage last month fell from 21.9 to 31.1 percent of seafarers who said they had been vaccinated against the virus. The percentage increase has increased from the previous month's figures, suggesting that seafarers have increasing access to vaccines. These figures still lag behind the rates of many major shipping countries, the European Union or the United States, but illustrate a positive trend.
"It is encouraging to see the vaccination rate of seafarers increase and the number of seafarers on board their vessels beyond the expiration of contracts is decreasing slightly," said Kasper Søgaard, Managing Director, responsible for institutional strategy and of Development, Global Maritime Forum. "However, blockages, flight cancellations and travel restrictions persist, posing continued challenges to crew changes globally."
Vessel managers submitting comments on the monthly updates continue to report travel bans and restrictions for certain geographic areas, putting the crew supply of those countries at risk. Problems have also been raised with the approval of specific vaccines and vaccines for which the two doses were received at different locations.
A crew shortage was also first reported last month and it again presented itself as a difficulty facing ship managers. Due to the continued closures, sailor academies have been closed or operate remotely, delaying the training of seafarers, and closures and travel bans have also impacted crew supply.
As global maritime organizations continue to warn of the challenges of sustaining ship operations as the pandemic spreads, they are also encouraged by the positive steps. For example, the Singapore Shipping Association, in collaboration with PSA and the Fullerton Health Group, has established a Marine Vaccination Center (SEAVAX) in Singapore. The effort spans a trial program and has received financial support from many organizations. The center, which began operations yesterday, September 30, will administer vaccines to sailors, starting with the crew arriving in Singapore. Other efforts in Europe, North America and Asia also continue to provide COVID-19 vaccines to crew members when their ships arrive in port.
[ad_2]