Air Seychelles Cargo manages the first major cargo transshipment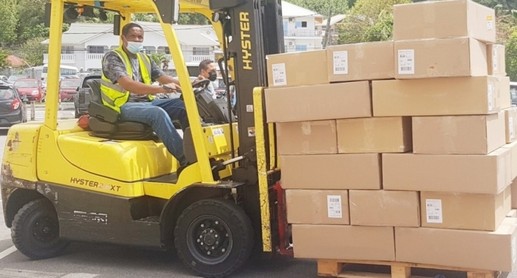 September 29, 2021: For the very first time, Air Seychelles Cargo, in collaboration with Mahe Shipping Company, a freight forwarding company in Seychelles, and its partner Freight and Transit Company in Mauritius, handled an extremely large cargo transshipment of cargo sea ​​to air freight.
Delivered to Air Seychelles Cargo in a 40ft container, more than 4 tons of fabrics transported by sea to Seychelles from Madagascar, were transhipped by Mahe Shipping Company to be then shipped by air via Doha to the closest city. populated by the US state of Texas, Houston.
Juliette Pascal, Head of Cargo Operations at Air Seychelles, said: "For this new facilitation, we are indeed amazed by the collective efforts of all stakeholders and company staff to assist. This new international transshipment movement not only gave Air Seychelles Cargo a big boost, but also showed the team's ability to go the extra mile to meet customer needs. "
To facilitate the connection of this traffic, Mahe Shipping and Air Seychelles have also gathered the support of all stakeholders, including the Seychelles Civil Aviation Authority and the Seychelles Revenue Commission, to ensure smooth operations.
Andy Gobine, freight and ocean freight export project manager at Mahe Shipping who led the exercise, noted the success of the way the cargo was handled and how Seychelles can facilitate such transshipment to the future.