LA Airport Traffic Approaches Pre-pandemic Levels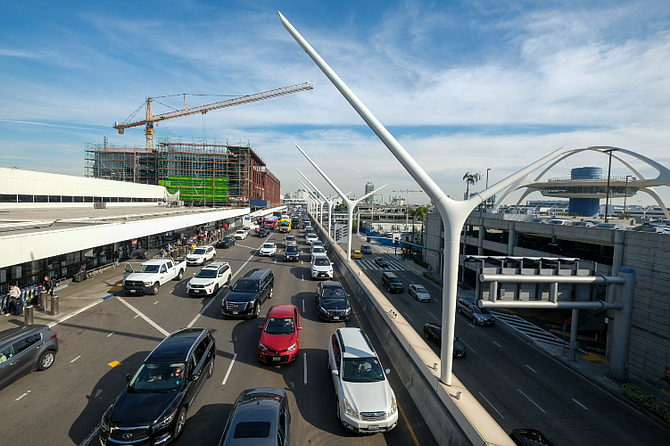 The rebound in passenger numbers at local airports continued in June, with passenger numbers approaching two-thirds of pre-pandemic levels and cargo tonnage continuing to record record highs.

And for the first half of 2021, passenger numbers at the four airports serving Los Angeles County – Los Angeles International, Ontario International, Hollywood Burbank, and Long Beach – have improved month over month.

In total, 21.4 million passengers passed through
the doors of the four airports from January to June, up 1.7% compared to the same period last year. The 2020 figures were bolstered by pre-pandemic traffic levels in January and February.

But that total was down 57% from the same period in 2019, when just over 50 million passengers passed through the four airports, en route to a second consecutive year of over 100 million passengers.

As the largest of the four airports, LAX set the tone in the first half of the year, with nearly 18 million passengers from January to June, down 58.3% from the first half of 2019.

"We continued to see a monthly increase in the number of passengers," said Justin Erbacci, general manager of Los Angeles World Airports, the municipal agency that manages LAX.

The improvement was most pronounced at the Ontario International Airport, where passenger numbers were less than 10% of pre-pandemic levels in June.

For the first half of 2021, total passenger numbers in Ontario are down only 36% from pre-pandemic levels – the only airport serving Los Angeles County that for most of the period , had recovered more than half of its drop in passengers induced by the pandemic.
Looking more closely at LAX's first-half numbers, domestic travel and international travel have followed two different paths.

The number of domestic passengers has increased month by month; the tally of 4.1 million domestic passengers in June was only 27.3% lower than before Covid June 2019. Overall, in the first six months, 15.3 million domestic travelers have passed through the doors of LAX, exactly half of the pre-pandemic level of 2019.

But LAX continues to experience a steep and lasting decline in the number of international passengers. In June, 761,000 passengers passed through LAX gates to and from international destinations. This was down 67.8% from June 2019. The half-year tally for the first half of 2021 showed 2.69 million passengers, a drop of 78.5% from the first half of 2019.

International travel restrictions due to Covid have been a major factor – both restrictions imposed on Americans by foreign governments and US government restrictions on inbound travelers from global hot spots. In recent weeks, the European Union has lifted travel restrictions on Americans, but an American ban on travelers from the EU remains in place.

Erbacci said those restrictions are expected to continue for some time, especially as the delta variant of Covid sweeps across the United States.

"We continue to advocate for a risk-based approach to reopening international travel, as the number of international passengers continues to be far below our number of domestic passengers," he said.

June gains
For June, the four LA County airports saw a total of 5.88 million passengers pass through their doors in June, up 21% from May and more than four times from June of the year last.

While still down 38% from the total passenger count for June 2019, 2021's drop is the smallest to date from pre-pandemic levels.

Preliminary figures for July show the rebound continuing – despite the resurgence of Covid-19 – with passenger numbers at around two-thirds of the same pre-pandemic month.

July is shaping up to be "our strongest month yet since the start of 2020, with around 2.6 million TSA selected guests at LAX," Erbacci said. He noted that this averaged nearly 84,000 people per day, or about two-thirds of passenger boardings observed in July 2019.

Meanwhile, data released by Los Angeles World Airports shows a slight reshuffle in the market share of the various major airlines serving the airport. With 30% growth in passenger traffic using LAX, Atlanta-based Delta Air Lines Inc. overtook Fort Worth, TX-based American Airlines Group Inc. to become the largest new carrier in terms of passenger volume.

Chicago-based United Airlines Inc., Dallas-based Southwest Airlines Co. and Seattle-based Alaska Airlines Inc. round out the top five carriers.

Burbank, Long Beach Problems
At Hollywood Burbank Airport, Houston-based Avelo Airlines launched service in April, giving some hope in an otherwise grim image for that airport. Avelo has made Burbank its hub on the west coast. The carrier launched with 11 routes to and from the airport. After some initial revamping, Avelo is set to enter the fall with a total of 12 routes.

Yet even with the launch of Avelo, the number of passengers at Hollywood Burbank Airport of just over one million passengers for the first six months of 2021 was down 61.4% from at the same time in 2019, before the pandemic struck. This was the biggest shortfall of the four airports serving LA County.

"Looking at the first half of 2021, we have to recognize that the recovery we are experiencing started in March," said Frank Miller, executive director of the Burbank-Glendale-Pasadena Airport Authority which operates the airport. "The first quarter was a slow recovery and then as we moved into the second quarter we saw the numbers improve very quickly."

Miller said the relatively robust leisure travel market was the main driver of the increases in the second quarter.

Meanwhile, Long Beach Airport is still reeling from the loss of its once dominant carrier, New York-based JetBlue Airways Corp., which left the airport completely last fall and transferred those operations. at LAX.

Southwest Airlines grabbed many flight slots from JetBlue, but only gradually added flights to the airport.

As the airport struggled to recover from JetBlue's departure and pandemic lockdown, passenger numbers remained rather anemic during the first half of this year, with a total of 760,000 passengers, down 55.7% compared to the first half of 2019.

"After one of the most unpredictable and difficult years in our aviation industry, we see the light at the end of the tunnel," said airport manager Cynthia Guidry. "During the first quarter of the year, our airport got off to a slow start. Fortunately, rising vaccination rates have been correlated with a welcome return from summer travelers. "
Cargo boom
Cargo tonnage figures for the region's airports tell a different story. Tonnage continued to increase at LAX, as nearly 247,000 tonnes crossed the tarmac in June, up 16.6% from June 2020 and 27.8% from pre-launch levels. June 2019 pandemic.


For the first six months of 2021, LAX freight tonnage jumped 28.6% to 1.46 million tonnes from the same six months before the 2019 pandemic.

Much of this increase is directly linked to the pandemic, according to Erbacci.
"Last year, LAX was a key hub for personal protective equipment, helping to deliver these essential items to people around the world," he said. "This year, LAX has become a major stop for vaccines en route to people all over Southern California."

The results were more mixed at the other major freight airport in the region, Ontario. More than 73,000 tonnes of cargo passed through the airport in June, down 14.1% from June last year, when freight shipments soared as stranded people placed more orders since. their home. But it was still up 16.7% from June 2019.

"The year-over-year drop in commercial freight was not unexpected given the scale of personal protective equipment shipments during the early months of the pandemic and as households began to shrink. depend on e-commerce for their supplies, "said
Mark Thorpe, Director General of the Ontario International Airport Authority. "We are confident that Ontario International's modernized facilities and efficient operations will nonetheless remain very attractive to shippers serving Southern California.
The four airports combined reported more than 1.92 million tonnes of air cargo in the first half of 2021, up 25.5% from pre-pandemic levels.
For reprint and license requests for this article, CLICK HERE.