Struggling logistics companies urgently need support to survive COVID-19 crisis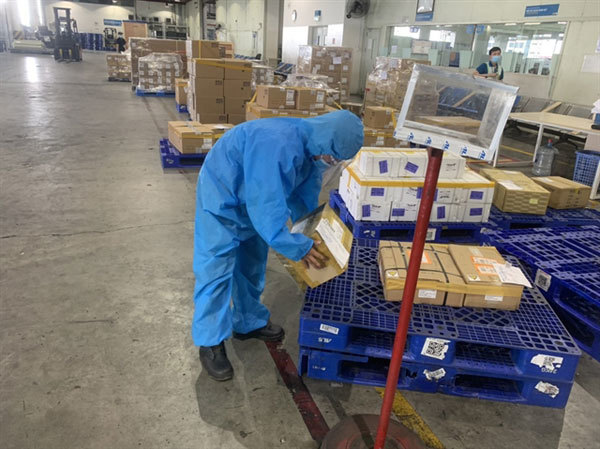 The COVID-19 health crisis and the large-scale and deeply felt economic upheavals that have resulted from it have shaken the logistics industry, leaving poorly protected freight companies in urgent need of emergency support from the world. 'State to survive hardships.
A worker wears protective clothing while working at Golden Logistic Co Ltd in the northern province of Bac Ninh. Every step involving transportation, storage, regular health checks of workers and drivers transporting goods in pandemic affected areas is strictly in accordance with disinfection and sterilization guidelines. Photo courtesy of Golden Logistic Co Ltd
Mandatory preventive measures between countries to contain the spread of the pandemic have resulted in disruption of trade flows and fragmented supply lines, dealing a blow to the logistics industry, which is seen as an auxiliary to trade and trade, allowing other industries to provide goods and services to consumers.
Factories reducing production or suspending operations have resulted in reduced transportation and delivery of goods in the supply chain, significantly affecting the functioning of logistics companies.
Reduced orders, increased costs
"From the early stages of the COVID-19 epidemic, the number of freight orders received by logistics companies in Bac Ninh fell sharply, at the same time, the delivery of goods, the activity of storage and warehousing is slowed down and disrupted ", Nguyen Hoai Nam, sales manager of Golden Logistic Co. Ltd. in the northern province of Bac Ninh, Việt Nam News told Việt Nam News.
"In accordance with government guidelines on the prevention and control of COVID-19, we, the companies, are making continuous efforts to achieve the dual objective of maintaining production while ensuring safety at work during the pandemic, prioritizing workers' health, "he said.
Every step involving transportation, storage, regular health checks for workers and drivers transporting goods to areas affected by the pandemic has been strictly in accordance with disinfection and sterilization guidelines. But this had resulted in increased operating costs.
Travel restrictions have also led to worsening shortages of truck drivers to pick up containers, he said.
"Multiple unforeseen costs have put logistics service providers under pressure. However, it is time for manufacturing companies and logistics companies to work together, "Nam said.
Logistics costs in Vietnam account for around 20 percent of the value of goods, which is relatively high compared to average costs around the world.
"However, the devastating consequences caused by the protracted pandemic, along with rising prices for warehousing and freight services, keep logistics costs increasing, putting great pressure on businesses," Nam said.
Companies have also faced a significant reduction in revenues from goods exported and imported from countries affected by the pandemic. Goods shipped to Vietnam have dropped dramatically, those in clearance have been strictly quarantined. Delivery times from suppliers in the Asian market and some other regions would be longer.
According to statistics from the Vietnam Logistics Business Association, up to 50 percent of companies providing logistics services of all types have experienced a decline in their business and income. Air and road transport services were the most affected.
About 80 percent of the association's members are micro, small and medium-sized enterprises, so many of them are on the verge of collapse, which means workers are losing their jobs.
In Vietnam, cases of infection have been detected in the large-scale industrial parks of Bac Ninh and Bac Giang, causing numerous disruptions in the production chains of companies, which inevitably has a direct impact on logistics companies.
Deferral of tax payments
A report summarizing the recommendations of companies and associations in April-May 2021 was submitted to the Prime Minister by the Private Sector Development Research Council (Council IV), as part of the Government's Advisory Council for the reform of procedures and the Organization of Young Presidents (YPO).
In the report, Council IV said that amid the pandemic, manufacturing companies in industrial parks, logistics and transportation companies suffered, causing economic hardship and supply chain disruption.
Exporting companies have faced great challenges due to worsening shortages of containers and merchant ships globally, as well as skyrocketing costs.
Council IV therefore recommended that the government consider and direct ministries, branches and localities to simplify administrative processes or prioritize import and export processes, as in the coming priority. to be applied to the export of Bac Giang lychee.
This would help companies optimize time and costs in domestic stages to speed up import procedures for essential goods or speed up the export of agricultural products and other key export products.
Le Duy Hiep, chairman of the Vietnam Logistics Service Association (VLA), said that in light of COVID-19 developments, in order to support logistics companies, the VLA proposed to the government to grant a reduction of 50 % on corporate tax for 2020 as a way to help businesses overcome hardships.
He also proposed the extension and postponement of paying employers' taxes, their contributions to Social Insurance Fund, Unemployment Insurance and Health Insurance Fund, Hiep told Việt Nam News.
VLA's recommendations on extending the payment of taxes have been approved by the government. However, "it takes time and there are a lot of procedures required by banks," Hiep said.
Decisions on reducing retail gasoline prices have benefited both businesses and the economy as a whole, he said.
The Vietnamese Maritime Administration decided in May last year to reduce pilotage fees by 10% for Vietnamese shipping companies operating on national routes, as a support measure in the context of the COVID-19 pandemic. .
Hiep said Vietnam's logistics costs were consistently higher than regional and global averages by 16-20%.
"We are trying to reduce the cost to be equal to other countries in the region, like Thailand at 14-15% and Singapore at 8-10%," Hiep told Viept Nam News.
The government aims that by 2025, the contribution of logistics services to Vietnam's GDP to reach 5-6%, the growth rate of the logistics industry reaching 15-20%, the rate of outsourced logistics services of 50 to 60%. achieve the global logistics performance index of 50 or more.
Logistics companies must urgently apply IT solutions, modernize management and operations methods, use software systems and logistics optimization platforms to reduce costs and improve service quality, Hiep said. .
They should promote links with other logistics providers and with manufacturing companies to create competitive advantages in negotiation and improve service delivery capacity, Hiep said.
VLA would actively coordinate with localities and manufacturing companies to design solutions that promote the transportation and movement of goods, ensuring safety in the midst of the pandemic, while applying supportive measures such as reducing freight costs, storage and warehousing.
Shopping malls and supermarkets should consider increasing the purchase of agricultural products from farmers in pandemic-affected localities such as Bac Giang, he said.
Source: Vietnam News
Businesses Need More Effective Support Amid COVID-19
Like many countries, Vietnam may have to depend on vaccines to gain herd immunity and be virus-free, but companies may not be able to wait. They are in urgent need of help and are thirsty for a new boost to get back to a "really normal" situation.
Increase in market exits highlights need for increased political support to survive COVID-19
Vietnam is urged to continue tax reforms while ensuring stability and offering more supportive policies for businesses to help them weather the COVID-19 storm.