Shipping companies continue to raise fees, businesses face more difficulties | Business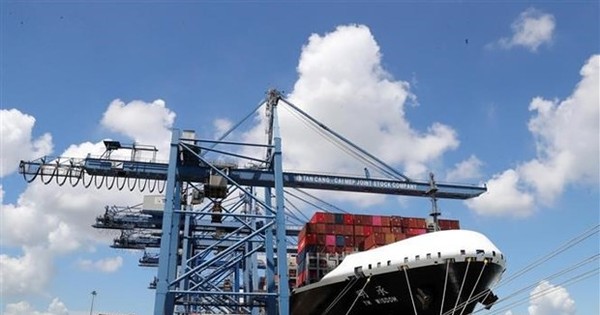 Containers loaded at Tan Cang – Cai Mep international terminal. Starting in mid-May, several container shipping companies announced increases in freight charges. – Photo VNA / VNS
Six months after the world's shortage of containers drove up shipping costs, import and export companies expected the costs to be reduced thanks to vaccination campaigns that helped control COVID-19.
However, experts said it would be very difficult for container shipping costs to return to pre-pandemic levels despite the virus being under control and no severe container shortage.
But starting in mid-May, several container shipping companies announced increases in shipping costs from US $ 400 to over $ 1,000 per container.
Germany's Hapag-Lloyd increased the general tariff mark-up (GRI) for routes from East Asia (including Vietnam) to the United States and Canada to $ 960 per 20ft container and to 1,200 $ per 40ft container from May 15th.
The US shipping company CMA CGM has announced an increase in the freight rate from mid-May for routes from Somalia to Northern Europe, the Mediterranean, the Black Sea, India and Pakistan.
Swiss shipping company MSC has increased the surcharges for sipping to $ 800 per container starting May 18.
Duong Thanh Lan, deputy director of Blue Sea Cargo Logistics Transport Corporation, said freight rates for route to the United States have seen the largest increases.
In April, popular freight rates to the West Coast of the United States were around $ 5,000 per 40-foot container. However, the quote is now over $ 10,000.
Freight rates to Europe continued to increase steadily and were also at high levels.
Tariffs for connections between Vietnam and Europe were now around $ 7,000 to $ 8,000 and to the United States over $ 10,000, compared to $ 1,500 and less than $ 1,000 in the pre-pandemic period. respectively.
Thanh said shipping companies said this was due to inventory in ports, with companies wanting to speed up shipments, especially to the United States, which pushed up transportation demand as well as freight rates.
Tran Van Linh, chairman of Thuan Phuoc Seafood and Trading Corporation, said shipping costs were not at unreasonably high levels, but import-export companies like his had no other choice. than accepting the increases.
Stopping import and export activities was impossible due to commitments to partners, Linh said, adding that canceling orders or not meeting delivery deadlines would compromise the prestige of the company and its efforts to find customers in the future.
Truong Tien Dung, director of Sai Gon Aquatic Products Trading Joint Stock Company, said high shipping costs weighed on import and export businesses as many small-scale operations were forced to close or shut down. temporarily their activities.
Despite the increase in transportation costs, it would be impossible to negotiate increases in product prices as the COVID-19 pandemic has forced consumers in markets like the US and the EU to tighten their budgets and focus primarily on essential goods and products at reasonable prices, Dung said. . High transportation costs eat away at business profits, he said.